Real Estate Litigation Lawyer Los Angeles CA
Real Estate Litigation Lawyer Los Angeles CA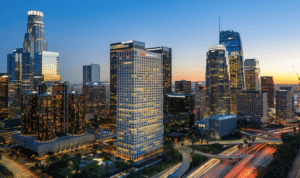 When you are dealing with a real estate dispute, it may be in your best interest to have a real estate litigation lawyer Los Angeles CA trusts on your side. For years Kassouni Law has been representing individuals, businesses, and partners in real estate litigation matters. We are considered to be a preeminent law firm that can effectively handle disputes of all kinds. Kassouni Law has navigated a very large number of disputes, and we use our sophisticated understanding of complicated real estate laws and transactions to meet the goals of our clients. 
Interdisciplinary Expertise
Kassouni Law has a broad understanding of California's real estate laws, and the associated regulations. We are uniquely situated to approach all disputes with a high degree of mastery about the legislation and rules that may be relevant to your case. We are also in a position to be able to consult with our colleagues who focus on real estate transactions, and can apply their knowledge to real estate litigation matters. 
Years of Experience
In addition to our extensive experience in land use, environmental, and construction practices, a real estate litigation, and land use lawyer Los Angeles, CA respects, such as one from Kassouni Law, represents owners, developer, lender, investors, homeowners associations, landlords, tenants, and other clients in practically all types of real estate disputes that involve property. Our previous experience has included disputes involving issues such as:
Purchase and sale agreements, including a breach of contract, rescission or restitution claims, interpretation of a contract, performance actions, and more.

Claims against a broker or agent for nondisclosure.

Claims by or against a title insurance or escrow company. 

Option agreements, including the application of an option agreement.

Easements, including recorded easements.

Boundary disputes or land disputes. 

Failure to disclose. 

Fraud or misrepresentation. 

Foreclosure issues. 

Title issues, including liens. 

Property management agreements. 

Tenant agreements.

Environmental disputes. 
Success At All Stages Of A Dispute
As a real estate litigation lawyer in Los Angeles, CA, we represent clients in local, state, and federal courts, as well as in mediation and arbitration. When appropriate, we have obtained or challenged writs of attachment or other provisional remedies. Although we have taken a number of cases to trial, and obtained judgements for relief or damages, we have also been very successful in negotiating a settlement at mediation. 
We consider our firm to be adept at the evolving, and ever-changing, area of real estate law. We also are well versed in our ability to navigate every case in a unique way that is suited to the needs of the client. 
Navigating California Litigation Laws
The state of California has some of the toughest litigation challenges in the United States. Clients feel comfortable depending on the Los Angeles real estate litigation lawyers at Kassouni Law. We understand the legal landscape and know the ropes. Whether your case involves multiple parties, class action lawsuits, large economic claims, or challenging issues, we are confident in our ability to find a solution. Call a real estate litigation lawyer in Los Angeles, CA today.