California land use lawyers will acknowledge that the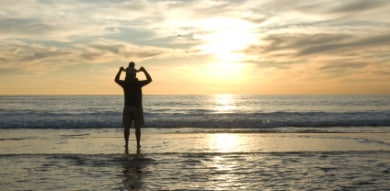 California Coastal Commission commands jurisdiction over all development of residential and private enterprise along the California coast.  In short, if one wants to build a home or simply pour a small slab of concrete for a mailbox along Pacific Ocean in California, a permit is required from the Commission.  And if one wants to host a surf contest, that requires a permit too.
In recent months however, the California Coastal Commission has reached new heights in its ongoing power grab seeking to influence the way in which private enterprise conducts business as well. The latest grab deals with the Northern California big wave surf contest Titans of Mavericks, held at Half Moon Bay.
Each year the Titans of Mavericks season opens in November and runs through March. Contest organizers then select one day for the contest predicated on wave conditions. At past competitions, waves have been as big as 60 feet. Twenty-four of the toughest surfers in the world are selected for contest inclusion by the contest's Committee 5 based on the following criteria:
A person who is athletically in top, peak physical condition to handle the rigorous conditions and hazards of Mavericks.
An accomplished big wave surfer that has surfed Mavericks before or whom has put recent time in that proves eligibility.
A proven waterman: person that has dedicated a portion of their life staying involved with the ocean.
Person who promotes ocean conservation and lives a healthy lifestyle.
Person who is drug free and doesn't take performance enhancing drugs.
Person who is respectful to his/her peers and has Character in and out of water.
Person who puts time in at Mavericks during the pre-season.
Person who understands the water safety rules, and is knowledgable of the inherent dangers of Mavericks.
A person who provides community service efforts in their local community.
A person who is associated with one or more community organizations.
A Person whom is educated on the ecosystem, waterway, and cold water conditions surrounding Mavericks.
A person that understands that participation at Mavericks is a privilege, not a right.
On its face, this criteria lacks any hint of sexism. Yet the Coastal Commission has informed contest organizers they must include female surfers in the competition or risk future permits.
The Coastal Commission is tasked with protecting the California Coast line, not to meddle in matters that have nothing to do with coastal development. However, when the Coastal Commission intervenes in this way, event spectators will likely always wonder if a female surfer was powerful enough to be selected for Titans on her own accord or forced in by commission mandate. Stay strong ladies, we believe you can make it to Titans without the "protection" of the California Coastal Commission.
In addition, when the Coastal Commission intervenes in this way, one wonders if it has nothing better to do with its resources.
Regularly working to defend clients' Constitutional rights against the Coastal Commission, the California land use lawyers at Kassouni Law recognize that the Coastal Commission continually seeks to expand its jurisdictional tentacles. Learn more about the California land use lawyer practice by clicking here.