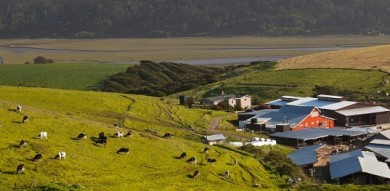 Every now and then the California Coastal Commission gets one right. On May 15th, the Commission decided to approve with suggested modifications the most recent update to Marin County's land use plan, in spite of fairly strong opposition from outside groups. The major point of contention with the plan was new zoning rules that would allow farm owners in agricultural zoned areas to build larger homes and even guest houses on their property. The current regulations only allowed smaller single structures. Proponents of the change were relieved- noting that prior restrictions had made it difficult if not impossible for family farms to have multi-generational housing. Now it will be possible for a farmer to build a house for his children on the family property without violating the agricultural zoning designation for the property. In short, it is a good day for agricultural property owners in Marin County.
Opponents of the proposed change cited fears that it will lead to cluttered development and hobby farm mansions. But in the end, such concerns were unable to win the day. And really, that makes a good deal of sense. The primary purpose of the Coastal Commission is to protect the California Coastal environment, not to enforce the subjective aesthetic concerns of neighbors or environmental extremists that simply prefer that all land go undeveloped. Under existing rules all new development will still have to undergo review by the Commission to ensure minimal environmental impacts. The new rules merely lift the blanket ban on building secondary homes on agricultural property. And this is as it should be. The law shouldn't prohibit family farmers from building homes on their property large enough to accommodate their children merely because some would prefer to see more open space.
The team of lawyers at Kassouni Law represent Clients against the California Coastal Commission who have had their Constitutional property rights infringed upon. To contact a Coastal Commission Lawyer to discuss your own legal matter, call 877-770-7379.